Don't sure about everybody but Instagram Stories has become the most favourite feature of many users. As Instagram stories build an authentic and real connection between a user and its followers. Sharing your candid photos gives viewers a more accurate view of a user as compared to feed.
Its importance in terms of active engagement is also second to none. More the followers you've, more the engagement ratio you can achieve. This feature takes pride by having plenty of other unique attributes but what you need to know is its success formula. This blog post is all about this, and at the end of this article, you'll be able to set up a killer strategy which actually works.
Around 70% of US businesses are making good use of this robust feature for running their successful media campaign. If you're a startup business, the easy growth hack is to buy Instagram followers to get an instant reach at Instagram stories.
So let's get started from very basic trick and then we'll move to advance level tips and tricks.
Bring Versatility in your Content
Viewers will sooner or later start ignoring your stories if you stick with the common style. Entertain your followers with diverse content which might include different formats, genre, style etc.
Consistency is surely the key to success, but once if you learn how to create versatile content. Then, you will easily create a loyal and regular fan base.
Beginners may ask a question about which type of content they should publish?
Firstly, be sure about the audience you'll be targeting. Then, figure out the interests of your audience and then create a content plan.
Use Stickers to Motivate the Audience for Engagement
Engagement is all you need when you're pursuing your Instagram marketing goals. It is not just limited to your news feed, but by actively using Instagram stories you can also turn the game into your favour.
Instagram stories are famous for many reasons, one of them is its interesting stickers. When it comes to stickers, Instagram offers a variety of sticker for different purposes. For instance, you want to hold a contest, then Polls Stickers is what you need.
Similarly, you can urge the audience to interact with your stories by using the question stickers. There's a lot of fun as you can also set up different games and play them with your audience. This one will surely be plus point for those who've to lose their active engagement recently.
Use Hashtags
The significance of hashtags isn't just limited to content that you shared on your news feed. But hashtags can also increase the worth of your stories too much extent. Hashtags aid your brand to get wide exposure and in this way, it can get the attention of more eyeballs.
Instagram offers different stylish and classy fonts, so make sure it looks good with your picture. You can also create your own branded hashtags so that people can find you easily.
Here's a story from Nike.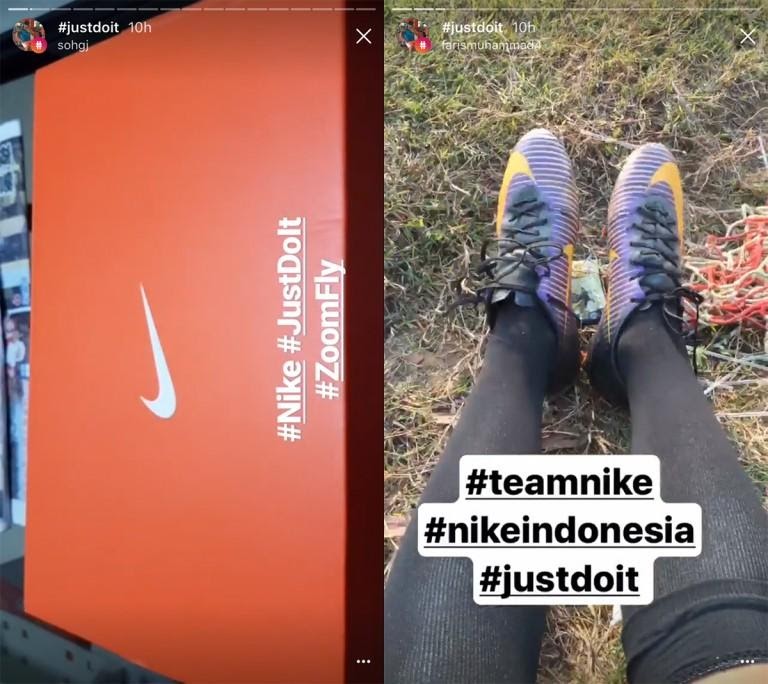 There's a complete concept behind hashtags strategy and here are some tips for stories hashtags.
Use Maximum 2 hashtags per each story
Do some research before using any Hashtags
Prefer hashtags with lower competition rather than higher volume
Don't use lengthy hashtags as it becomes hard to read
Don't overuse hashtags
Advertise Discounts & Special Offers
Instagram stories are one of the most-used features and people find it easy to use it especially when they don't have enough time. In that occasion, you can get the lead by publicizing the discounts and special offers.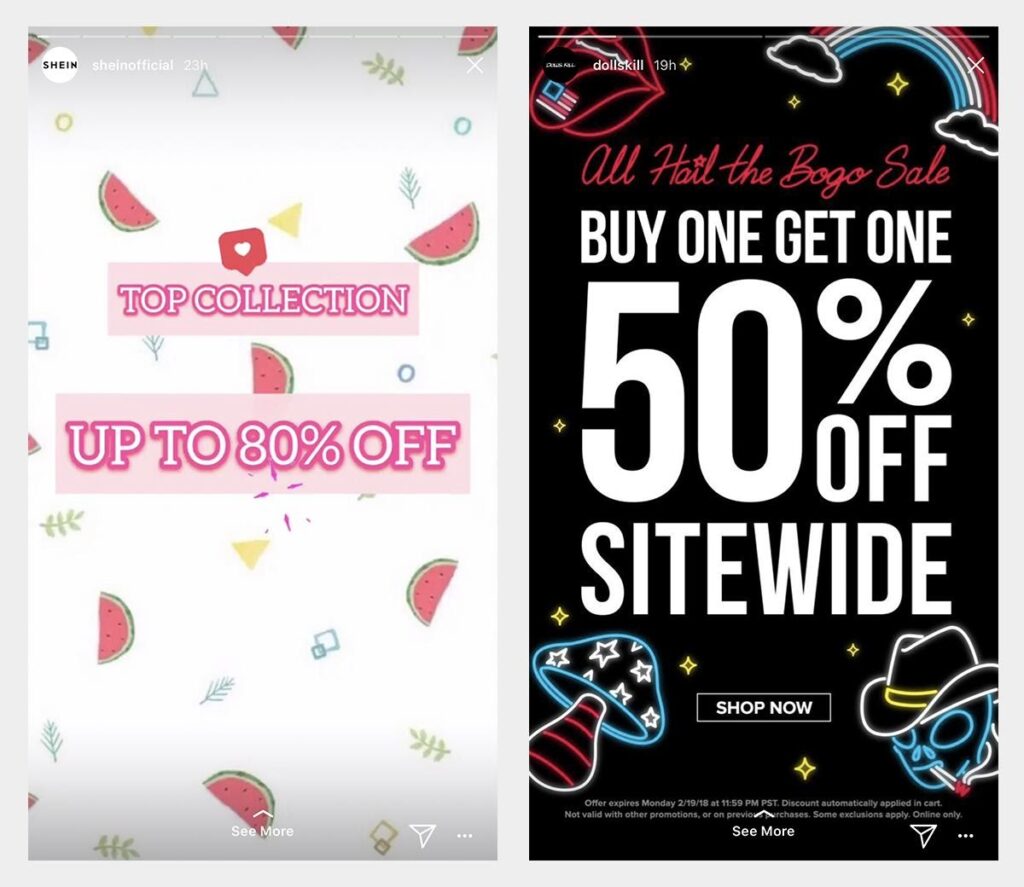 The reason why most marketers prioritize the use of Instagram is its great ease towards doing the business. Ecommerce stores can display their special deals and discounts on their social handle. And then divert the traffic from Instagram to their website.
Businesses are already winning a huge number of clients only from social media platform and Instagram is one of important name. So, it's time for you, to use the full potential of Instagram to spread your message.
Use Locations Tags
Using locations tags can help you to get an unexpected amount of traffic at your content. If you're just starting off and struggling to multiply your follower count, then this easiest technique is for you.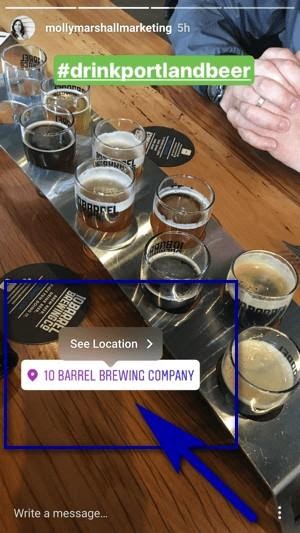 Actually, using locations tags works in a way to target the audience from particular demographics. People usually use the locations in the search bar, and most likely they can get at your content.
Use Swipe-Up Option
Whether you're a blogger or owner of eCommerce store, you can also reap out benefits of it. Instagram is very strict when it comes to sharing the links, it only allows this sharing at two spots. Write interesting articles and share the link in your stories. If you're having good-amount of following, then you can get a huge number of traffic just from Instagram stories.
Celebrities also advertise the links of the brands or sponsors in their Instagram stories. Use a different call-to-action button to incite the audience to click on the given link.
Final Words
We've shared some of the simple yet highly effective tips which are being used by Influencers, Brands and Bloggers. If you also want to fully capitalize on the potential of Instagram stories, then it is important to stick to these tips.
I want to conclude the article by advising you to buy Instagram Story Views to minimizes the effort for your marketing.
Let us know about your thoughts on this article, in the comment section.