Wondering how to enhance your engagement rate many times? These hacks are all you need.
In this race between major social media platforms, do you know what makes Instagram more favorable for marketers? Its Higher 4% higher engagement ratio.
Despite the fact that TikTok has emerged as one of the dominating platforms which attract many users from all over the globe. But still, Instagram reportedly generates $20 Billion ad revenue in 2019, which is even more than YouTube.
This continuously growing popularity of Instagram is due to the benefits it is providing to business (both local & Multi-National), Influencers and Bloggers.
So You also want to get the most out of Instagram?
Pro Tip: For Instagram's success, followers come first than any other factor. So, I'll suggest you buy Instagram followers if you don't have enough following.
Just learn how to increase engagement and the game will totally turn into your favour.
Enough talking, let's straight jump onto those hacks that can get you closer to your goals.
Start Conversations with Instagram Stories
500 Million accounts use Instagram stories on daily basis. Isn't it a huge figure?
Instagram is capitalizing on its continuously growing popularity by finding new ways which can make it even more robust feature.
Instagram stories stickers are a good way for users to interact with their followers and increase their engagement. For Instance, the Ask Me Everything trend and sticker can embark on the conversations and it actually works for many brands and celebs.
Other than this, Quiz stickers also help you to encourage the viewers to start the conversations. Countdown feature is another great idea which can bring some unexpected results to your social handle.
Add a Fun-Factor into Your Content
Studies have shown that social media content which includes humor or any fact factor can get many times more engagement.
We've seen a content strategy of many brands have completely transformed during the last couple of years. One major noticeable change is the addition of humour, memes in their content plan. This actually incites the viewers and as a result, they spend more than average time on your post. Meme industry is growing, and at this moment you totally get into this, then surely it will result in something big in future.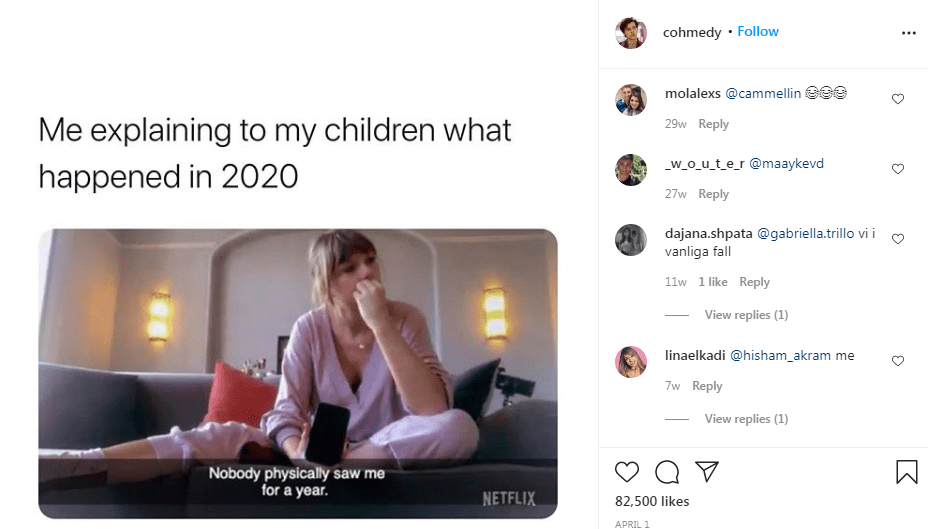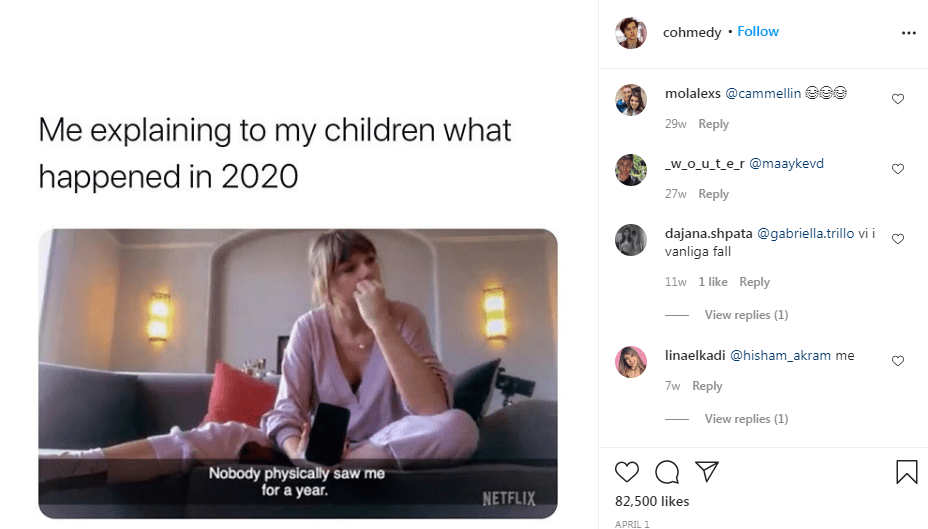 Instagram also becomes very conscious with the rise of TikTok, therefore they brought many changes into their stories feature.
Also, an esthetic sense into your content also needs of the hour, as people love to see such kind of content.
Write Longer and Interesting Captions
If you think captions has nothing significant to do with your engagement than you're mistaken. Visit the Instagram handle of NatGeo. They're using the story-telling technique to build the interest and grab the attention of the audience.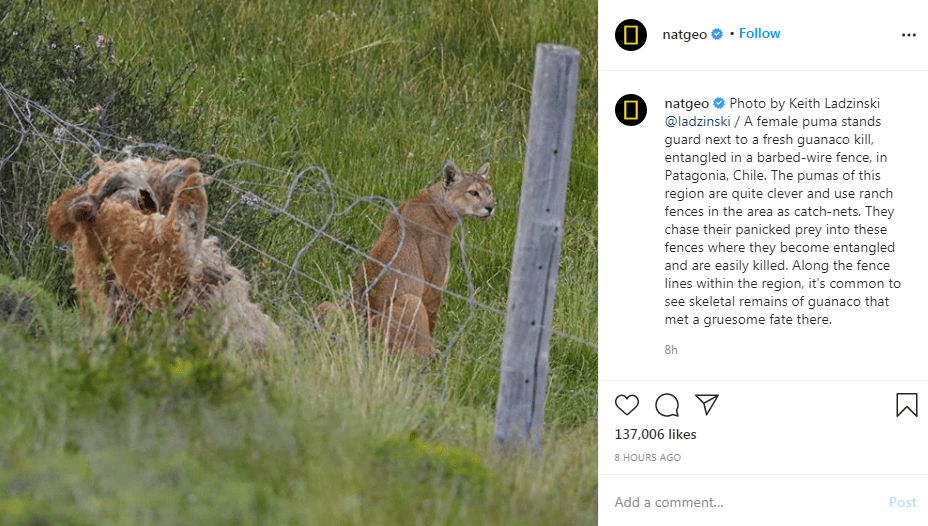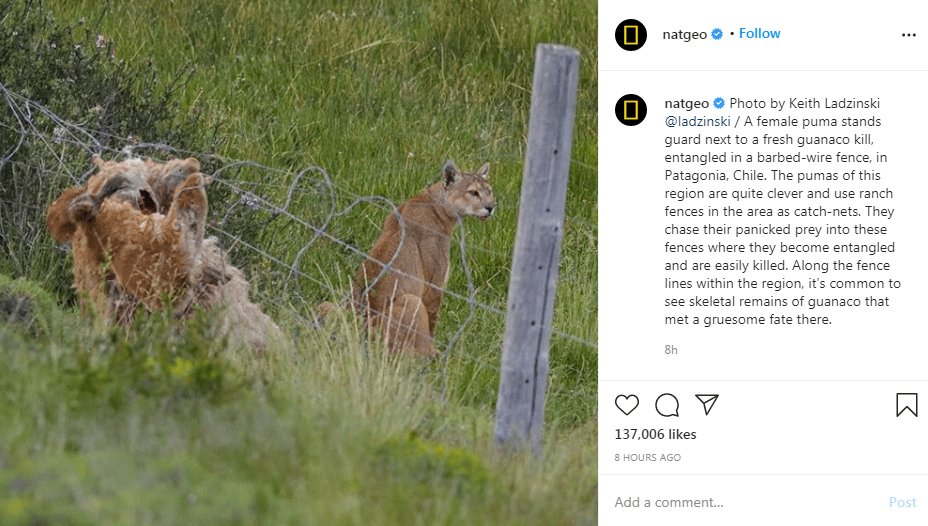 Take a look at the above screenshot, and check the likes and time of posting. They posted an interesting picture and write an interesting story explaining the story. This technique has helped them to reach 145M followers.
Similarly, if you're running a business campaign, you can quote the stories of your customers. Also, through this technique, your business will win the interest and consequently, engagement will also get boosted.
Post User-Generated Data
UGC or user-generated content is such content which belongs to users. For instance, if you're a business campaign, you can repost the content of your customers.
Reposting isn't the only form of UGC, but you can directly feature your customers into your feed. Either way is to participate in the bigger conversations and communities to get closer to your potential audience.
How User-Generated Content Can Help You?
Your content plan utterly needs to include this strategy in order to get the desired results. By following this technique, firstly you can build loyal followership. Reposting customer's content makes them feel special and they get impressed by your customer-friendly policy. Most importantly, you can win their trust which is as important as a fuel in a long run. Secondly, your engagement will be increased with this idea.
Focus on Video Content
During the last few years, video content has got much importance since this is the thing that the audience wants to see. Most of the person will surely prefer a video for their answer rather than reading 7-min long article.
In addition to it, the main reason for YouTube popularity is its video content. Not only Instagram, but all social platforms are favouring and encouraging the video content.
By focusing on video content, I bet you that your content will also get gather more audience. More reach means engagement at your content.
Leverage the Concept of Peak Times
Now, this one is an advance yet simple technique if you get its solid idea. All you need to do is to figure out the peak times. The peak time can be analyzed by observing when most of your followers are active. Posting content on such times will bring more audience to your Instagram posts.
Go Creative with Hashtags Strategy
Hashtags are not a new concept, but anyone who knows how to make wise use of it, enjoy many benefits. First and foremost benefit is the driving of unexpected traffic at your content.
I'll suggest you use 5-9 hashtag per post, going beyond this limit will give an unnatural and spammy look. Not always prefer hashtags with greater volume, but use those hashtags which has less competition. A right hashtags strategy is all you need to excel your marketing strategy to the next level.
Conclusion:
We've covered simple but effective ideas which are being used by marketers. Doing it in the right manner will surely turn the tables.
Hopefully, you've learned how to use these technique, you can also leave your queries in the comment section.